Lit Indigenous Jazz Band Gives Incredible Performance for NPR's Tiny Desk Contest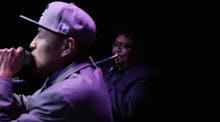 In a recent round-up of their favorite submissions to the 2016 Tiny Desk Contest series, NPR selected the song "Roadrunner" as one of the 10 best. 
Performed by the Delbert Anderson Trio and Albuquerque-based rapper Def-i, the track is, in two words, very lit, and absolutely oozes with indigenous musical talent.
Although the video — submitted as part of NPR's Tiny Desk competition, where winners get to perform their own taped concert at the outlet's Washington, D.C., office and tour the country with NPR — did not get top honors, it earned special praise and an honorable mention.
It also encouraged Def-i and the Trio to perform together more: Indian Country Today Media Network reports that they have since united to form a new group, DDAT. "Although we didn't win overall, the guys were happy with the honorable mention," Anderson, who is Navajo, told ICTMN.
Indigenous artists have seen something of a renaissance in recent years. From Canadian DJ crew A Tribe Called Red and Apsáalooke rapper SupaMan, to prominent features on TV shows like MTV's Rebel Music, the popularization of indigenous pop music is gaining well-deserved attention from mainstream listeners.
Now, the Delbert Anderson Trio and Def-i have taken a big step toward joining these hallowed ranks. Check out their full video below: