Rapper the Game Is Releasing a Line of Sweet, Refreshing Weed Lemonade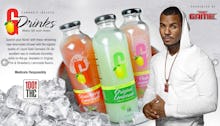 When life gives you lemons and marijuana, there's only one option: Squeeze the former, distill the latter into an oil and make some dope lemonade.
That's exactly what Los Angeles rapper the Game is currently up to. In partnership with G FarmaBrands, the rapper will be launching G Stiks, a line of cone-shaped joints, and G Drinks, a line of THC-infused lemonades. They're set to release three flavors: traditional lemonade, pink and strawberry, just in time to give every summer lemonade stand a serious run for its money.
"These guys are the pioneers of innovation in the cannabis industry," the Game said of G FarmaBrands in a short and sweet statement, according to Billboard. "I'm excited to help raise awareness for G Stiks and G Drinks in all territories that we are available."
The Game is the latest entertainer to venture into the recreational marijuana industry, which is growing at a rapid rate. In September of last year, Snoop Dogg launched a full marijuana-based media empire, which is currently curating potent marijuana policy, research and culture content. Willie Nelson, America's original outlaw stoner, is rolling out his own brand of weed Willie's Reserve. Even Nick Lachey of 98 Degrees, never the most out stoner, co-owns a 29-acre weed farm in Akron, Ohio. 
Marijuana is the hottest legal hustle around right now. The Game will likely not be the last entertainer looking to grab a share — especially if the Drug Enforcement Administration resolves to reclassify marijuana as less a dangerous drug, as they're set to decide later this year.