20 Million in Bangladesh Are Drinking Water Poisoned With Arsenic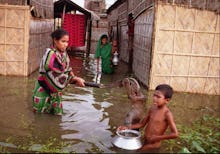 Around 20 million people in Bangladesh are drinking water with dangerously high levels of arsenic, and very little is being done to amend this situation, according to a Human Rights Watch report published Wednesday.
Development organizations implemented a massive national initiative in Bangladesh between the 1970s and 2000 to drill tube wells. It was a response to the widespread problem of fecal-contaminated water. However, what the development community didn't realize was they were paving the way for a far worse crisis.
Read more: Flint Poisoned This Guy's Water, So He Created a Hack to Make It Drinkable
The ground water there contained tasteless and odorless arsenic, which, at high enough levels, can cause cardiovascular disease, cancer, skin legions and can ultimately lead to death and, in children, cognitive impairment. When the crisis was addressed in 2002, the World Health Organization called it "the largest mass poisoning of a population in history." 
And 14 years later, according to the HRW report, approximately 43,000 people a year are dying in Bangladesh from using the arsenic-tainted water.
After people became aware the water was poisonous, there were some efforts made to mitigate the crisis. "The government, international donors and NGOs installed a few hundred thousand safe water devices — mostly deep tube wells that reach groundwater of better quality," HRW wrote. "Bangladesh also adopted a National Policy for Arsenic Mitigation and an accompanying implementation plan in 2004."
But one of the report's biggest concerns is that efforts have stalled since 2006. 
The crisis is crippling swaths of a generation. The report states that from 2000 to 2030, an estimated 90 million babies will be born in Bangladesh. Of those children, 1 to 5 million are predicted to die from arsenic poisoning. 
"Bangladesh isn't taking basic, obvious steps to get arsenic out of the drinking water of millions of its rural poor," Richard Pearshouse, a researcher for HRW, told the Guardian. "The government acts as though the problem has been mostly solved, but unless the government and Bangladesh's international donors do more, millions of Bangladeshis will die from preventable arsenic-related diseases."