This 50-Foot Flamethrower Blasting Fire in 4K Slow Motion Will Absolutely Mesmerize You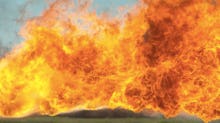 If you don't have access to a flamethrower, a wide-open lot and a planet-crippling amount of diesel, here's the next best thing: watching your dreams carried out in a YouTube video.
The Slow Mo Guys just posted a clip of a 50-foot flamethrower in 4K slow motion — that's a resolution of 4,000 horizontal pixels — and it's goddamn majestic. 
If you decide to try this at home, you can buy a personal flamethrower kit, which averages around $100 on eBay. But be warned, Californians and Marylanders: Personal flamethrowers are illegal in your states, as Popular Mechanics reported. 
Now sit back — like, really far back — and enjoy:
h/t Reddit