When Will Beyoncé Drop Her New Album? Fans in Shambles As Album Is Nowhere to Be Seen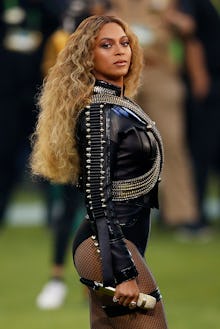 The madness enveloping the modern world surrounding the release of Beyoncé's sixth solo album has officially become unprecedented. It's not just the BeyHive that's buzzing with ridiculous conspiracy theories trying to place the date Queen Bey will drop her next project — even leading international news organizations like CNN are writing up total hypotheticals, "There's always April 13 — as in 1 plus 3 equals 4."
In fact, you'd think fans would simmer down after Beyoncé breathed life into her base with a gem-filled, candid interview with Elle, published Tuesday after the release of her new sportswear line, Ivy Park. But nope: The spotlight shining on their queen only led fans to ask the question further — where in the world is Beyoncé's next album? 
The Formation World Tour kicks off in Miami on April 27. The interim period, a state of confusion and chaos for fans, has become known online as BeyWatch: the days of our lives spent tracking down any whispers or clues as to where Beyoncé and her album might be. 
First there were rumblings the queen was enlisting the help of Democratic presidential frontrunner and former Secretary of State Hillary Clinton for a new video. Then came photos of Jay Z and Beyoncé with family members of Trayvon Martin, and people began assuming her forthcoming album would continue the message of social justice and anti-police brutality found in "Formation."
As fans continue to hypothesize as to when Beyoncé might drop her album, the singer is clearly too busy attending basketball games, launching sportswear lines and suing companies like Feyoncé to even provide a response — all of which is causing an even more problematic online experience for the BeyHive.
Let's just hope she's not ghosting like Frank Ocean.
Read more: What Is Feyoncé? Beyoncé Sues Engagement Announcement Apparel Shop For Confusing Her Fans
Correction: April 7, 2016