The Average Cost of a College Education Has Made 2015's Graduates Most Indebted In History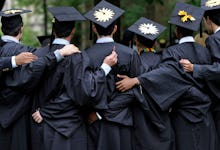 Ahhh college ... the keggers, late nights at the library, dining hall food and, um, paralyzing tuition payments? The average cost of a four-year college education in the U.S. varies depending on the type of school, but no matter where you go, it will probably cost you a pretty penny: The College Board puts the yearly average tuition at a four-year public college at $9,139 for in-state students and $22,958 for out-of-state students, while average yearly tuition at a private college is $31,231.
No matter what type of school you attend, the costs can add up quickly. According to the College Board's estimates, even if tuition rates didn't go up during your four years of school, a degree can cost you anywhere between $36,556 and $124,924. 
And remember, tuition and fees don't necessarily include additional costs like housing, meals and books, so real costs may be even higher. In 2015, Forbes reported that the average cost of college was more than $28,000 a year at a four-year public college and more than $59,000 at a private college.
Perhaps due to the current, costly state of higher education, more college graduates than ever are leaving school with debt. According to the Wall Street Journal, the class of 2015 was the most indebted in history, leaving school with an average of $35,000 in student loan debt, and, in the U.S. today, "Almost 71% of bachelor's degree recipients will graduate with a student loan, compared with less than half two decades ago and about 64% 10 years ago."
The scariest thing about tuition costs in the U.S. might not be how much they are now — but how much they're going to be in a few years. According to Forbes, "the projected cost of an elite college from 2018 — 2021 could soar as high as $334,000 for a four-year degree."
Start saving those pennies, kids, because your future looks expensive.
Read: Federal Agents With Automatic Weapons Arrested This Man for Not Paying His Student Loans