Melissa McCarthy Is MTV's First Female Comedic Genius Award Winner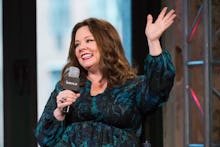 No list of Hollywood's funniest leading ladies is complete without Melissa McCarthy's name. The actress, who shot to fame after a gut-busting performance in Bridesmaids, and who is set to star in this summer's Ghostbusters reboot, can soon add another accolade to her growing list: recipient of MTV's Comedic Genius Award.
McCarthy is not just one of the industry's funniest women; she's one of its funniest people.
McCarthy has built her brand on an extremely physical style of comedy, proving she could carry films in her star turns in 2014's Tammy and The Boss, which rolls out nationwide this weekend. Just this week, she shut it down in a hilarious lip sync battle on the Tonight Show, performing a solo rendition of "Colors of the Wind" from Pocahontas that is absolutely worth your time.
The Comedic Genius Award has been granted twice prior, to Will Ferrell in 2013 and to Kevin Hart in 2015, making McCarthy the first woman ever slated to receive the honor.
Casey Patterson, an executive producer for the MTV Movie Awards, praised McCarthy in a press release.
"We love Melissa for her performances but she also writes, produces and directs comedy, so this award is incredibly well deserved," Patterson said. "The most exciting thing about Melissa is how brave she is, you don't want to miss her moment in the show."
The 2016 MTV Movie Awards will air Sunday, April 10 at 8 p.m. Eastern.
Read more: Melissa McCarthy's Response to a Sexist Reporter Deserves a Standing Ovation