Visually Impaired Indian Students Perform Beautiful Synchronized Dance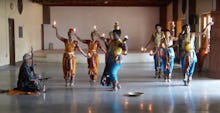 These dance students, who are blind, can't see the audience or each other when they're performing. 
But that doesn't stop them from being perfectly in sync...
...and effortlessly balancing candles on their heads and hands while dancing.
Their dancing is mesmerizing. 
They learned how to dance at Shree Ramana Maharishi Academy for the Blind in Bengaluru, India. 
The school started teaching braille to students with blindness in 1969, according to the Better India.
Dance and music lessons were incorporated as an extracurricular in 1973. 
"We always motivated the disabled, and encouraged, trained them in various fields like agro-based farming, poultry, vocational training, yoga, dance, table and more," the school's co-founder T.V. Srinivasan told the Better India. 
Not only do the students dance well together — they dance way better than most people with 20/20 vision.