Disturbing Video Shows San Antonio School Officer Body Slamming 12-Year-Old Girl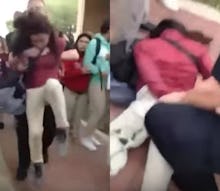 A disturbing new video out of San Antonio shows a school district officer slamming a young student, allegedly a 12-year-old girl, to the pavement. It has spurred the San Antonio Independent School District to open an investigation, My San Antonio reported.
The 33-second video, first uploaded to YouTube on Tuesday, shows an officer lifting the girl off the ground and then slamming her, face first, into the pavement as a crowd of students shouts nearby. In the background, another student can be heard repeating "You OK? She landed on her face." The officer can then be seen handcuffing the girl while she's still lying on the ground, then pulling her to a standing position. The incident reportedly took place at Rhodes Middle School "last week."
Leslie Price, a spokeswoman for the school district, told My San Antonio the incident took place on March 29 and stemmed from an argument between the girl and another female student. 
My San Antonio reported that the officer was identified as Joshua Kehm. Price told My San Antonio that Kehm has been placed on paid leave. "This video is very concerning, and we are working to get all of the details," Price said. "We certainly want to understand what all occurred, and we are not going to tolerate excessive force in our district."
The video is reminiscent of a similar story from back in October, when a South Carolina school resource officer was filmed violently pulling a 16-year-old student out of her desk, knocking her to the floor. The video sparked outrage and the officer, Deputy Ben Fields, was later fired.
Read more: Graphic Video Shows White Fairfield, Ohio, Officers Slamming Black Teens Outside Pool