Contour Your Face With Lipstick, According to These New Chinese Beauty Tutorials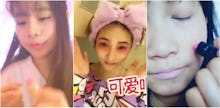 SHANGHAI, China — If your makeup bag is bulging with tons of products, you might want to learn from the beauty gurus in China. The latest beauty hack on Chinese social media uses just one product to make up your entire face, including contouring your face, covering up your spots, coloring your cheeks and adding depth to your eyes: lipstick.
"Heard everyone talking about highlighting?" popular portal Sohu asked in a recent article. "Lipstick can also be a great way to highlight."
"Using lipstick to contour your face is a top secret makeup artist hack. It makes your face look slimmer and adds dimension to your features," Chinese site Wei Toutiao said in December in an article detailing 11 lipstick hacks, including using it to moisturize dry nail beds. 
This includes contouring, the viral makeup technique that's in the painfully long process of jumping the shark. We might have thought we'd reached peak contour when a model on Instagram appeared to have contoured her entire body, right down to the fake six-pack. But in China, lipstick is being embraced to get the job done.
"It's best to pick a dark coffee-colored lipstick (that's why you find bright red lipsticks at top beauty counters, because they don't want you to realize you can do this)," Wei Toutiao wrote.
Meanwhile, we recently learned from a beauty tutorial (above), which was broadcast on a TV screen in the back of a Shanghai taxi, that lipstick can work as an undereye concealer, a nose-slimming tool, chin highlighter and blush.
As one Weibo user put it, "In the hands of a talented woman, lipstick is far more than makeup. It can be a paintbrush, an ornament. It's up to you to discover how to use it." 
Of course, it's not just contouring. Hugely popular site Sina suggested applying lipstick to both your eyelid and undereye area to create a striking look that only slightly suggests you might be suffering from conjunctivitis, something makeup lovers in the West have recently adopted. InStyle and Today are just the latest to recommend red lipstick as undereye concealer.
But at least one curious person has already asked Quora if brown lipstick can substitute for contouring (though, let's be honest, we've all been there).
However weird you feel about applying lipstick down the bridge of your nose or under your waterline, at least this new way to do makeup doesn't require any fancy new equipment. A makeup bag with just one item? Don't mind if we do, China.