Nicki Minaj Breaks Silence on Celebrity Feuds, Expresses Regret on 'Ellen'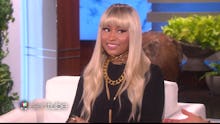 Among celebrities, Nicki Minaj has perhaps the most versatile lineup of celebrity feuds, including Mariah Carey, Miley Cyrus, Lil' Kim and of course, Taylor Swift. However, if you ask the rapper about it now, she's regretful and doesn't believe it captures her personality in the best light.
Speaking with the audience prior to her television appearance on Ellen — which was filmed through Facebook Live — one person asked Minaj about her celebrity feuds, and if she had any regrets for them. 
"Yeah, all the time," Minaj said. "All my feuds I regret, because I'm a sweet person, and I don't wanna be mean to people." 
Her feud with Cyrus was perhaps the most personal (though justified), with the rapper calling her out for appropriating black culture. "If you want to enjoy our culture and our lifestyle, bond with us, dance with us, have fun with us, twerk with us, rap with us, then you should also want to know what affects us, what is bothering us, what we feel is unfair to us," Minaj said, in an October 2015 interview with New York Times Magazine. "You shouldn't not want to know that.''
Check out the video of Minaj's Q&A with the audience below, which also posits when we can expect a "little Nicki" in the future. 
Read more: Taylor Swift and Nicki Minaj Just Ended Their Twitter Feud in the Most Epic Way