Bernie Sanders Just Took His War of Words With Hillary Clinton to the Next Level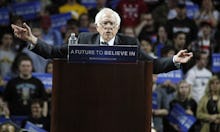 The Democratic presidential primary took an acrimonious new turn on Wednesday, with Bernie Sanders asserting that Hillary Clinton — a former public interest lawyer, policy advocate, First Lady, United States senator, and chief U.S. diplomat — is "not qualified" to serve as president.
The Vermont senator leveled the charge at a campaign rally in Philadelphia, one day after he thrashed Clinton by 13 points in the Wisconsin primary.
"[Clinton] has been saying lately that she thinks that I am, quote unquote, not qualified to be president," Sanders began — an apparent reference to Clinton's remark, after Sanders' bungled interview with the New York Daily News, that he hasn't "done his homework" on his policy proposals. Clinton did not, however, declare Sanders unqualified.
Read more: Bernie Sanders Had a Big Win in the 2016 Wisconsin Democratic Primary — But It Still Wasn't Enough
"Well let me, let me just say in response to Secretary Clinton: I don't believe that she is qualified, if she is, through her super PAC, taking tens of millions of dollars in special interest funds," Sanders continued. "I don't think you are qualified if you get $15 million from Wall Street through your super PAC."
Sanders went on to cite Clinton's support for the Iraq War and free trade agreements as other disqualifiers.
The remarks drew a swift rebuke from the Clinton campaign, with press secretary Brian Fallon calling it a "new low" and demanding that Sanders retract his statement.
Sanders' aggressive tack comes after victories in six of the past seven nominating contests — wins that have underscored the durability of his progressive insurgency but failed to make a significant dent in Clinton's large delegate lead.
While the dynamics of the race still favor Clinton, the tightening contest in New York, her adoptive home state, is a source of concern for her campaign. Should Sanders upset Clinton in the Empire State, establishment unease about her candidacy may transform into outright panic.
Seeking to stave off that humiliation, the Clinton campaign is signaling that it won't be holding back. CNN reported on Wednesday that the campaign is prepared to go "nuclear" on Sanders, focusing on his alleged lack of seriousness on key policy issues.
Unifying the Democratic Party, a Clinton aide told CNN, can "come later."
The heated back-and-forth marks a sharp departure from the remarkably staid tone of the Democratic contest in its early days. Sanders launched his campaign professing his admiration for Clinton, railing against the idea of "ripping [her] apart," the Guardian reported.
Even as Sanders climbed in the polls, Clinton adopted a similar approach, saying on CBS's Face the Nation in September that she had "no interest" in waging attacks on Sanders, Mediaite reported.
Goodbye to all that.