Ellen DeGeneres Tears Apart Mississippi's Religious Freedom Bill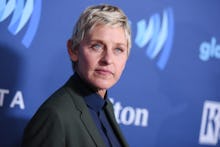 Ellen DeGeneres ripped into Mississippi's religious freedom bill Thursday, calling it the very "definition of discrimination." The queen of daytime talk opened Thursday's Ellen DeGeneres Show with a monologue that is in turn hilarious and heartbreaking.
"I thought a lot about what I wanted to say today," she started. "What I really wanna talk about today is what happened in Mississippi. I don't know what Mister Ssippi is doing, but I'm very worried about Mississippi."
Read more: Ellen DeGeneres Says Caitlyn Jenner Is Still Judging Gay People
"I'm not a political person, I'm really not," DeGeneres explained after reading part of the bill to her audience. "But this is not politics. This is human rights."
She made a clear argument against the bill, pointing out that the Supreme Court already ruled on this when they ruled for same-sex marriage in June 2015. But she also added a personal element: As someone who grew up in the south, she knows the pain that bills like Mississippi's and North Carolina's will cause.
"If you're in Mississippi or North Carolina or anywhere and you're saddened by the fact that people are judging you based on who you love, don't lose hope," she explained. "I was fired for being gay, and I know what it feels like. I lost everything."
The bills are "the definition of discrimination," DeGeneres said, but she's not losing hope. "There's already so much inequality in the world: women's rights, gender pay gap, racism. I think we need to remember that we are more similar than we are different. ... So I advocate for less hate and more love."
Watch the full video here.