Photographer Diego Huerta's Images of Mexico's Indigenous Community Are Stunning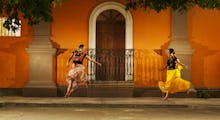 For the last four years, Austin-based photographer Diego Huerta has traveled across Mexico on a mission to photograph all of the country's more than 60 native populations. The first leg of the project, "Inside Oaxaca," focuses on four of Oaxaca's eight regions.
"Getting to live and see what the people were before the Spaniards conquered Mexico excites me," Huerta said in an email. "It is a way of reliving history in the actual moment. Not in a book. And that is the feeling that I look forward to transmitting to others, Mexican or not, since the native cultures should be part of the world heritage." 
Huerta said he was inspired by the colors, traditions and celebrations of Oaxaca, and each portrait was an important part of the learning process. "So many things happen at once when I'm shooting a portrait that it is not until later that I sit down to feel and see things differently," Huerta said.
Read more: This Native American Chef Is Championing Food Justice in the Most Innovative Way
In addition to celebrating the history and beauty of different native cultures, Huerta said he hopes to shine a light on the marginalization of these people, an estimated three-fourths of whom live in poverty, according to a 2014 report from the National Council for the Evaluation of Social Development policy.
"Discrimination doesn't only exist in the United States," Huerta told the Huffington Post. "In Mexico there's a high degree of discrimination against native people. And there's a lot of ignorance from modern society towards them."
See some of the photos below:
See more of the stunning images from Oaxaca — and the rest of Huerta's work — on his website.