'Rogue One: A Star Wars Story' Teaser Trailer Is Here and Fans Are Losing Their Minds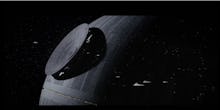 It feels like Star Wars fans are still collectively recovering from the nostalgia-filled joyride that was The Force Awakens, but already, we have ourselves a teaser trailer for a new Star Wars movie. Rogue One: A Star Wars Story, the first of three anthology films set to expand the Star Wars universe, was unveiled Thursday on ABC's Good Morning America, and there's a lot of exciting details to comb through. 
Rogue One is set to take place prior to the events of A New Hope, though not by much. In fact, Rogue One should — to some extent — lead into the opening sequence of A New Hope, as the film should reveal how Princess Leia and the Rebels initially received the plans of the Death Star, which led to the Empire hunting them down, starting off the series' narrative. 
Notably, the teaser prominently featured Felicity Jones' character, and it's evident that she'll have a large part to play in the Rebels capturing the plans. Also visible are staples of the Empire we've come to expect, including Stormtroopers, AT-AT Walkers and, of course, the Death Star. 
This should come as no surprise, but Star Wars fans in the Twitterverse were very excited for the trailer. 
Rogue One is set to hit theaters on December 16. Check out the teaser trailer for Rogue One below. 
Read more: 'Star Wars: Rogue One': What We Know So Far