Bobby Shmurda Endorses Hillary Clinton for President — Will She Have to Shmoney Dance Now?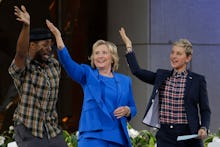 Watch her whip, watch her nae nae, now watch her ... Shmoney?
Jailed rapper Bobby Shmurda just announced his support of Hillary Clinton for president, which begs the inevitable question: Will Clinton perform the "Shmoney" dance at any point in the duration of her campaign?
Shmurda, 21, revealed his endorsement during an interview with Vibe magazine on Tuesday, calling Donald Trump an "asshole" and saying Clinton is "into the people."
"Y'all better not have Donald Trump as our president," the Brooklyn rapper, born Ackquille Pollard, told Vibe. "I'm going for Hillary, man ... She's got a strong mind state."
Shmurda is currently on 23-hour lockdown at the Rockland County Correctional Facility in New York, where he awaits a May 11 trial date. He faces multiple charges, including first-degree conspiracy, criminal possession of a firearm and reckless endangerment, according to the Guardian.
The rapper has also had terrible luck getting out on bail, but enough about our troubled criminal justice system — time to focus on everyone's favorite dancing grandma-slash-former Secretary of State.
Not only has Clinton led the race for the Democratic presidential nomination for months, she's also blessed us with a remarkably broad repertoire of dance moves, ranging from her infamous whip/nae nae on Ellen to hitting the meanest of "dabs" ... also on Ellen.
Yes, her tendency toward open pandering has earned her ridicule at times. 
But it's also given Americans fodder for reckless speculation as to what dance she'll try next, the cornerstone — as everyone knows — of any functioning democracy.
Shmurda became a runaway rap star when his 2014 single "Hot Nigga" charted in the top 10 of Billboard's Hot 100. The track's accompanying dance, the "Shmoney," became his signature and a national sensation, making its way from the streets of Brooklyn all the way to the NFL.
So again, we must inquire: Hillary Clinton and Bobby Shmurda — sweet dream, or beautiful nightmare? The answer, like any answer, might only be determined on the dance floor.
h/t Gawker