Cat Undercuts Are a Thing, Should Be Called "Undercats"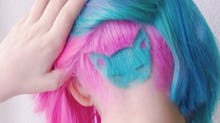 Why just own a cat when you can also wear it in your hair? Instagram user Katichka did just that, by shaving her pet cat's face into the undercut of her cotton candy-colored hair, according to her post.
"My sleepy cat with me always," she wrote in the caption. 
The feline design latches onto the undercut trend that's suddenly sweeping over social media (which isn't very new by the way.) The cat portrait isn't visible until the top layer of hair is lifted up. 
Read more: Science Reveals What Cats Really Think of Us
Katichka's hairdresser was Aliya Askarova from Saint Petersburg, Russia, whose own Instagram is full of colorful and creative dye jobs. But there's also a salon in Australia called Chops Hair Bar that did a similar undercut, proving that this trend is reaching worldwide proportions, according to Marie Claire.
Are dog portraits the next frontier?