This Mother Shed New Light on the "Racist" Gap Ad That Went Viral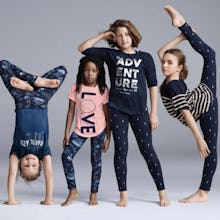 Remember this photo? It was all the rage on the internet in the first few days of April. 
The caption: "Meet the kids who are proving that girls can do anything." 
The problem? White girls are posing in acrobatic positions. The only black girl supports a white girl's arm — and the internet was outraged.
Brooke Smith — the young model's mother, according to BET — set the record straight:
"Girl with arm resting on her shoulder is her sister," she tweeted. "She didn't talk in [the] video because she was too shy. Everyone needs to calm down."
Tense cultural relations have led many people to examine the world through a racial lens. While this awareness is crucial, it can keep our minds closed. Smith's comment reminds us of that.