Chris Brown Calls Tinashe a "16-Year-Old Hobbit" After She Spoke On His Instagram Tantrums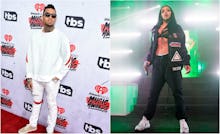 Last week after Chris Brown attempted to humiliate singer Kehlani, accusing her of using a recent suicide attempt as a way of "flexing for the 'gram," fellow R&B artist Tinashe did a very reasonable thing: She unfollowed Chris Brown. 
Read more: Chris Brown Humiliates Kehlani for Her Attempted Suicide in One Gross Tweetstorm
She wasn't alone, either: Artists Zendaya, Normani Kordeh and Dinah Jane Hansen of Fifth Harmony all did the same. 
Ever since, Brown has been on Instagram rampage, tearing into the artists for turning their backs on him. Thursday, he took his most direct shot at Tinashe yet, mocking her playing smaller gigs like the Power 106 charity basketball game's halftime show and calling her "16-year-old hobbit face ass."
Brown initially reacted to Tinashe and others' unfollows writing in an Instagram comment: "They called and needed my help, not the other way around. I've been around for a bit, so these 'celebrities' fade out musically if they aren't original or, let's face it, actually talented." 
Wednesday, Tinashe responded in an interview on 106KMEL by casually brushing it all off.
"I felt like it was just so unnecessary," she said. "It's not a big deal to me. I don't think that follows on Twitter are a big deal. If I see him, I would love to speak to him. I would love if he would reach out. I have absolutely nothing against him. We're on good terms, as far as I knew."
If Brown felt the same, he probably wouldn't have brutally insulted Tinashe's career on Instagram. Yet as he tweeted, Brown has no plans to apologize.
In other Chris Brown news, TMZ reported Wednesday that a Los Angeles graffiti artist who has been operating under the alias Konfused since 2003 is suing Chris Brown for allegedly ripping off his trademarked tag. Brown has been using his similar tag Konfused to push a new clothing line. The artist is suing for damages and demanding Brown never use the name again.