Nicki Minaj Had a Fan Onstage to Rap Her Verse, Leaves Stage Because It Was Fire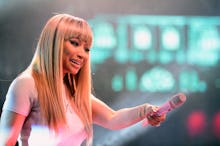 When Nicki Minaj invited a front-row fan onstage at her recent concert in South Africa, she probably wasn't expecting him to spit her entire verse from Trey Songz's "Bottoms Up," complete with hype choreography, then bust out a full split. 
The surprise fire performance, which ended in blaring sirens and a roaring crowd, essentially upstaged Minaj to the point where she literally had it — and proceeded to walk off stage completely.
No, really: he did that. 
The concert, held at the GrandWest Casino and Entertainment World in Cape Town, South Africa, was part of the last leg of Minaj's Pinkprint Tour. 
After the performance, the fan picked up the jacket he threw off in the midst of his iconic moment and proceeded to head backstage with a few other fans. Check out the full video of Minaj's performance with her fan below: 
The Pinkprint Tour wraps up Thursday night in Las Vegas with Ariana Grande opening the show. 
Read more: Nicki Minaj Breaks Silence on Celebrity Feuds, Expresses Regret on 'Ellen'