Lena Dunham Says the Kardashians Are Feminist Heroes, "All About Sisterhood"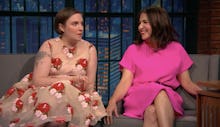 Move over, Blac Chyna! Lena Dunham just might be on her way to becoming the next honorary Kardashian.
The actor/writer/director/newsletter-creator joined her writing partner Jenni Konner on Late Night with Seth Meyers Wednesday, where she explained her love of Khloé (and the whole Kardashian krew).
"People will be like, 'Those Kardashians aren't what you represent!'" Dunham told Meyers. "And we're like, well, they're, like, awesome entrepreneurs who are all about sisterhood and connection. And so, yeah it is."
The discussion began when Dunham and Konner told Meyers that Khloé loves Lenny (the pair's feminist newsletter) — so much so, that she tweeted about it last month.
"I was scrolling through [Twitter] and I literally stopped the room cold and said, 'Khloé Kardashian just tweeted at us about Lenny," Konner said. "And we were hugging and so excited ... we couldn't get back to work for the rest of the day."
Dunham then chimed in about how she likes to post on Instagram about Khloé — whose app she loves — "once or twice a day." The pair then revealed that they plan on getting memory foam bath mats, as seen on the Khloé Kardashian app. (In related news, yes, Khloé Kardashian has an app.)
But anyway, back to sisterhood and connection. Dunham wrapped up the Kardashi-discussion by telling Meyers that the Kardashian sisterhood has ultimately inspired her and Konner to be closer friends.
"I think, like, they're really a role model for our relationship," she said. "Honestly."
Watch the full clip here:
h/t BuzzFeed