'Rogue One: A Star Wars Story' Is Pissing People Off With its Female Lead, Felicity Jones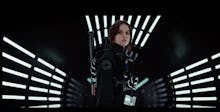 Get the five stories that will challenge you to rethink the world by signing up for MicCheck Daily.
Love of the Force has awakened once again with the release of the first trailer for forthcoming Star Wars spinoff movie Rogue One: A Star Wars Story.
There's lots of things to look forward to from the trailer. At the most basic level, it's another Star Wars movie — always cause for celebration. It also sheds light on an integral moment in the series that has been kept off-screen: how the Rebels nabbed the Death Star plans in A New Hope.
Read more: 'Rogue One: A Star Wars Story' Teaser Trailer Is Here and Fans Are Losing Their Minds
Unfortunately, not all viewers were as keen after viewing the trailer. Felicity Jones stars in Rogue One as the leader of the Rebel group — another female lead for the franchise. After the horror certain fans endured whilst seeing Rey (Daisy Ridley) take the lead role in The Force Awakens, two prominent female leads for the series is apparently too much to bear. 
Thankfully, there were some in the Twitterverse who took pleasure in knowing the film's narrative disrupted the narrow-minded views of such fans.
It goes without saying, but the assumption that Rogue One is somehow lessened by another female lead is absurd. A female lead didn't stop The Force Awakens from making box office history in the U.S., coupled with near-universal praise from critics and fans alike. Movies with prominent, complex female leads are also proven box office catnip — just last year, Mad Max: Fury Road and Trainwreck, among others, thrilled the country.
"[The movies] are perfect examples of the type of exhilarating storytelling that emerges when the lens is shifted toward the female experience," Caroline Siede wrote for the A.V. Club. "Perhaps Hollywood is finally realizing that not only are females strong as hell, their stories are pretty damn interesting too." 
The same can be said about Rogue One, and a badass Jones who looks to be the embodiment of the resistance against the Empire. "This is a rebellion, isn't it?" she says in the trailer. She might as well be talking about standing out as a woman lead in an industry that still has too few roles for female leads. "I rebel."
Rogue One is set to hit theaters December 16. Watch the trailer below.