Meet the 8-Year-Old Trying to Build a Trans Pride House Next to Westboro Baptist Church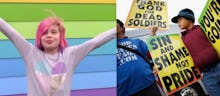 The Westboro Baptist Church has long been a symbol of hate and intolerance, often directed at LGBT people — the Southern Poverty Law Center calls the community "arguably the most obnoxious and rabid hate group in America" — but one brave 8-year-old girl wants to fight hate with love.
Last year, Avery Jackson, who is trans, visited the Equality House, a rainbow-colored building that is pointedly located across from the Westboro Baptist Church in Topeka, Kansas, and serves as the resource center for Planting Peace, a non-profit advocacy and humanitarian organization. Avery was so inspired by her empowering visit to the Equality House that she decided there should be a house dedicated to the trans community standing next to it.
Avery got to visit during a special week when the Equality House was painted with the colors of the transgender flag. "A year ago we went to this awesome rainbow house which was painted with the transgender colors," she said in a video uploaded to YouTube last week by her mom, Debi Jackson. "It made me feel really happy ... I was really excited and it was awesome!"
Now Avery is working with Planting Peace to raise money to buy the, as she puts it, "very dull" white house next-door to the Equality House and paint it with the colors of the trans flag year-round, so there will always be a symbol of trans pride across from the Westboro Baptist Church.
In a message on the fundraising campaign's Crowdrise page, Planting Peace said that "Avery's story touched us so much that Planting Peace has joined forces with her to expand one house over from the Equality House and permanently paint our neighboring house the color of the transgender flag, growing our presence of peace and acceptance for all people directly across from the Westboro Baptist Church, a hate group internationally known for it's vile campaigns against the LGBT community." 
The Westboro Baptist Church has responded in typical hateful fashion with several vitriolic tweets directed at Avery. As of Thursday, the campaign to build the trans pride house had raised more than $6,000.
Read: A 9-Year-Old Trans Girl Scout Cashed In After a Neighbor Refused to Buy Cookies From Her