Relisha Rudd Is Still Missing and D.C. Police Just Launched a New Search for Her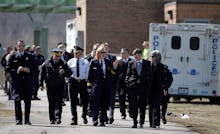 The story of Relisha Rudd has haunted Washington, D.C., for more than two years. On Feb. 26, 2014, the 8-year-old disappeared from the homeless shelter where she was living with her family, and she still has not been found.
She was last seen in March 2014 in the company of Kahlil Malik Tatum, a 51-year-old janitor who worked at the shelter and was known to frequent the company of other small girls living there. He would often entice the children with gifts, like $20 bills.
Tatum's body was found in a D.C. park on March 31, 2014, apparently having died by suicide after killing his wife. He had recently been spotted at a nearby store buying industrial-size garbage bags and lime, which can be used to decompose dead bodies, according to the New York Daily News.
Authorities now have plenty of reason to fear the worst, but Rudd's mother is holding out hope her daughter is still alive. "I still have hope and faith that she'll return one day," Shamika Young told the Washington Post this week.
Meanwhile, on Wednesday, D.C. police launched yet another search for the child. According to the Post, the large-scale mission will cover the grounds of the U.S. National Arboretum in the city's Northeast region, which was chosen as a site because of "new information" officials have yet to publicly disclose.
D.C. police Chief Cathy Lanier told the Post she has 60 officers working the case, and has solicited the involvement of the FBI and the National Center for Exploited and Missing Children. 
"[We] continue to follow up on any information we receive that may lead us to a different search area or different people we need to talk to," she added. The last search at this scale took place in December 2015. Nothing was found at the time, and nothing has been found at the arboretum thus far.
The spectre of a missing black girl adjacent to the center of American political power is especially symbolic considering the pattern it supports: According to the non-profit organization Black & Missing Foundation, over a quarter of a million racial minorities were reported missing in 2014. 
In 2012, black people made up 34% of people reported missing, despite constituting just 13% of the U.S. population, according to the FBI. Critics have argued that a lack of media coverage of this disparity — as opposed to, say, the coverage when a young white woman like Natalie Holloway goes missing —  stems from racial bias and the disparate value placed on black lives in the US.
"I spent six months at the Northern Virginia Criminal Justice Training Academy in Ashburn, Virginia, where we had only two hours of training on missing persons cases," Derrica Wilson, who co-founded Black & Missing with her sister, Natalie, told Essence. "In the field, I've seen a majority of black missing children classified as runaways, who don't get Amber Alerts."
Rudd's case is an anomaly by these standards. Her disappearance has galvanized much of national and local media, including the Post, and her name has been elevated to the level of household familiarity over the past two years.
"Unfortunately we don't see missing children or people of color get the same level of awareness that her case has received," Natalie Wilson told Essence in the same interview, "and that's what we want to change." Yet sadly, no amount of coverage — whether plentiful or lacking — has changed the fact that Relisha Rudd is still missing.
h/t The Root