Pretty Much Everything You Touch in the Gym Is Gross and Infested With Germs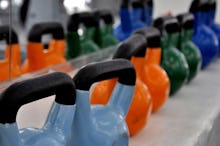 As expected, your local sweat hub — i.e. gym — is not the cleanest place on Earth. Researchers from FitRated who examined 27 different pieces of gym equipment in three different gyms found them to be brimming with germs.
The grossest surface belonged to free weights, which had 362 times more bacteria than a toilet seat, according to Women's Health Magazine. That may be due to people being conditioned to wipe down cardio machines rather than those individual weights.
FitRated found the gym-favorite treadmill to have 74 times more bacteria than a public bathroom water faucet. For the record, these faucets collect a lot of bacteria because they're such wet surfaces, and sometimes they're dirtier than toilet seats.
Sorry, spin class addicts. Exercise bikes have "39 times more bacteria than a cafeteria tray," according to FitRated.
Lest we forget, fungus also likes to hang out in gyms, especially by the pool and locker rooms, according to Women's Health Magazine. 
Today sounds like a good rest day.