How Long Are the 2016 MTV Movie Awards? Runtime of the Fun-Filled Pop Culture Event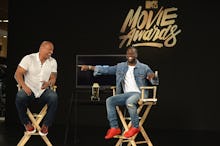 On Sunday, Dwayne "The Rock" Johnson and Kevin Hart will be hosting the 2016 MTV Movie Awards. A pre-show featuring red carpet arrivals and interviews with nominees and invited guests will start at 7:30 p.m. Eastern. The actual ceremony, which is celebrating its 25th anniversary, will commence at 8:00 p.m. Eastern and last for approximately two hours and 10 minutes, according to TV Guide.
Read more: The People's Choice and MTV Movie Awards Are Just as White as the Oscars
Packed in those two hours and 10 minutes will be 14 awards — from more standard categories like movie of the year to more eccentric categories like best virtual performance — as well two special awards: the comedic genius award for Melissa McCarthy (the first female to be awarded the accolade) and the generation award for Will Smith.
In between the handing out of Golden Popcorn statues, there will be live performances by Ariana Grande and Halsey, as well as exclusive looks at the forthcoming Suicide Squad, Captain America: Civil War and Fantastic Beasts and Where to Find Them.
In case you miss parts of the show, not to worry: The entire 2016 MTV Movie Awards will replay at 10:10 p.m. Eastern, right after its original airing.