Ted Cruz Has Been Offically Rejected by New York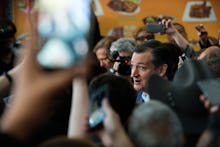 After lambasting "New York values" and criticizing GOP frontrunner Donald Trump for being from the left-leaning metropolis, Texas Sen. Ted Cruz is campaigning for votes — and money — throughout New York City. Unfortunately for him, the Big Apple is sour after his not-so-subtle critiquing of New Yorkers, and protesters are making his journey across the state as easy as a delayed commute on the C train. 
In a video posted on Twitter by Channel 4 News, one protester shouted, "This is an immigrant community. Get out of the Bronx," as Cruz and his wife Heidi arrived in the northernmost borough. "Have you got your Bronx visa? You're not allowed in the Bronx," yelled another. Some protesters were later removed from the event by police. 
The New York Daily News published this story, along with a front-cover story on Thursday titled "Take the F U train, Ted!" 
"Ted Cruz is a hypocrite. He not only offended New Yorkers, he offended Bronxites, and now he's here today in New York and in the Bronx looking for money and votes," Bronx Borough President Ruben Diaz Jr. told Daily News, whose father, state Sen. Ruben Diaz, Sr., met with Cruz hours later. "We in the Bronx know how offensive he's been. We know the truth about our borough."
"I'm thrilled to be back in New York," Cruz told reporters. The senator would not respond to journalist's questions asking how he plans to help the Bronx youth. Meanwhile, students at a Bronx high school successfully forced administrators to cancel Cruz's talk on education at their campus by threatening to stage a walkout the day of the event.
He's not the only presidential hopeful making their way through the city — former Secretary of State Hillary Clinton found herself in a bit of jam on Thursday in New York as well, when her MetroCard wouldn't work at a subway turnstile, providing one of the most relatable moments Clinton has shared on her campaign trail yet:
Vermont Sen. Bernie Sanders, who won the Wisconsin primary along with Cruz, is also campaigning in New York, where his headquarters are based out of Brooklyn. Republican presidential frontrunner Donald Trump also made a stop in New York on Wednesday, bashing Cruz for his attack on New York values. The candidates are all readying for the state primaries on April 19.