Anita Hill Changed the Way We Talk About Sexual Harassment — And This Video Shows How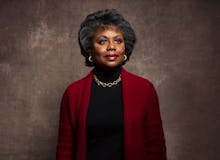 In 1991, one woman stood up and spoke out against a man she said sexually harassed her. Because of her courage, Anita Hill changed how Americans talk about sexual assault — and her influence is still spreading.
On April 16, HBO will debut their new film Confirmation, detailing Hill's testimony against Justice Clarence Thomas and starring Kerry Washington. A new clip provided exclusively to Mic summarizes exactly how impactful the events of Confirmation were. It's a powerful reminder of how far the United States has come on sexual harassment — and exactly how far it has to go.
Read more: Kerry Washington Uses Her SXSW Session to Talk About Social Good on Social Media
The clip breaks down exactly how bad workplace harassment was in the early '90s: minimal training for employees, limited enforcement of sexual harassment law and turning a blind eye toward bosses pressuring underlings for inappropriate contact. The Thomas hearings — and Hill's testimony — broke ground.
After the hearings, the Equal Opportunity Employment Commission received double the number of sexual harassment complaints as they did previously. The number of women elected to Congress also spiked in 1992.
Sexual harassment seminars and videos are now much more commonplace. Hill can't be solely credited for the changes — but her testimony certainly set off a wave of rethinking, regrouping and reevaluating priorities.
An HBO spokesperson said the network produced the clip for audience members who may not know who Hill is. "The piece is geared toward a younger generation who might not be aware of how the testimony of Anita Hill has impacted their lives and workplaces today," the spokesperson said in an email statement. 
With a TV and social media star like Washington at the helm, the clip and forthcoming film will serve as a vital reminder of exactly how impactful one person standing up and speaking out can be.
"Harassment of women and men continues in workplaces, on campuses, in the military and online," the clip concludes. "[But while] her name may be unfamiliar to young people, Anita Hill's testimony jump-started a nationwide conversation about sexual harassment that is still going on today."
Additional information about both Confirmation and the case will be available on a special site launching Friday afternoon. Watch the clip below.