2 Chainz "Explainz" Super PACs to You on 'The Nightly Show With Larry Wilmore'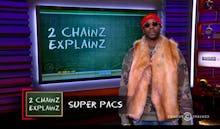 2 Chainz came through on the Nightly Show With Larry Wilmore to drop some knowledge about Super PACs. In his reoccurring "2 Chainz Explainz" segment, the rapper explained that Super PACs have one three goals: "get that money, get that money and get that money."
2 Chainz then eloquently analogized Super PACs for being "trap queens" for any presidential candidate. "They hold you down, they count your money and they attack all your enemies [or] anybody [that] tries to say something bad about you," 2 Chainz said. "That's my type of girl, right there."
Read more: Donald Trump Asking Twitter What's in Reporter Michelle Fields' Hand Totally Backfires
But they're not always effective; 2 Chainz also lampooned Jeb Bush's failed GOP nomination despite his super PAC raising nearly $118 million dollars.
The explainer was in due part to Ted Cruz's rise as another viable GOP contender, instead of Donald Trump's being the presumed runaway frontrunner. "The only reason Cruz has a chance is [because] voters are so uncomfortable about Trump," Wilmore explained. "On the scale of things Republicans are scared about, [Trump's presidency] is right between immigration and women's mystery crotch pouch thingy," Wilmore then joked. 
Wilmore speculated that Cruz has the momentum, as long as he doesn't say anything too creepy. Wilmore then played a clip of Cruz in Wisconsin, celebrating his win and saying "Hillary, get ready: here we come."
Watch the full segment at Comedy Central.