Watch as This Metal Foam Dissolves a Bullet Like It's Sand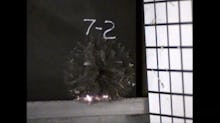 You're dust, bullet.
Composite metal foams, or CMFs, are tough — so tough that they can destroy an armor-piercing bullet on impact, Phys.org reported. 
Another one bites the dust: You can watch as a 7.62-by-63-millimeter M2 armor-piercing projectile, fired according to the standard testing procedures established by the National Institute of Justice, is annihilated as the CMFs absorb approximately 60 to 70% of its total kinetic energy, according to ScienceDirect. 
Since CMFs are lightweight and can absorb high-impact piercing projectiles, they are an obvious material candidate for more advanced ballistic armors. Phys.org cites new types of body and vehicle armor as two evident potential uses for these foams, since they're lighter than metal plating. 
Foam trumps metal: In March 2016, Afsaneh Rabiei, professor of mechanical and aerospace engineering at North Carolina State University, published a study that found that these lightweight composite metal foams "are significantly more effective at insulating against high heat" than metals. 
"Our findings suggest that CMF can offer extremely good thermal insulation, superior thermal stability and excellent flame-retardant performances as compared to commercially available materials such as stainless steel," Rabiei said, as reported by NC State News. 
This means that beyond obliterating a bullet, this material can also withstand extremely hot temperatures. NC State News reported that, beyond being useful for advanced body armor, CMFs can also be used to store and transport nuclear material, hazardous materials and explosives as well as used for space exploration. Mind-blowing.