Republican Candidates Take Their Brawl Over "New York Values" to New York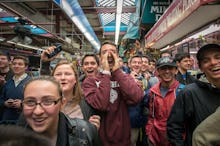 NEW YORK, N.Y. — The Republican candidates for president are trying to paint one of the nation's bluest states red — and that effort could get even uglier than it already has.
Ted Cruz, John Kasich and home-state frontrunner Donald Trump are out on the New York campaign trail in earnest, taking swipes at each other in the run-up to the Empire State's April 19 primary.
Read more: 2016 Election Poll Results: Here's Where the Candidates Stand Week of April 4  
Team Kasich hopes the Ohio governor's moderate profile — at least compared to Trump and Cruz — will give him a leg up among GOP voters here. 
He hit the stump at lunchtime Thursday in the Bronx — and hit Cruz in a new TV spot slamming the Texan's disparaging comments about "New York values."
Here's the ad script: 
Voiceover: In Iowa, Ted Cruz sneered at our New York values.
Asked Thursday by reporters what "New York values" mean to him, Kasich kept it characteristically upbeat.
"Neighborhoods! Great food! Great people! It means everything," he said after diving into an array of Italian delicacies from Mike's Deli on famed Arthur Avenue.
Kasich's campaign said the new ads — there's a 15-second and a 30-second version, a concession to the pricey New York metro media market — "are supported by a robust online and digital buy in New York City and Long Island."
Incidentally, Bethpage, Long Island, greeted Donald Trump on Wednesday with a massive rally the day after his spectacular defeat by Cruz in the Wisconsin primary.
Nice guy, but... Liz Bogaard, 19, a psychology student at Fordham University, was one of a raft of young people who got a chance to interact with Kasich during the jam-packed Bronx campaign stop.
"He told the kids not to do drugs, which was kind of a nice, neutral, nonpolitical comment, so I don't think he was trying to cause any controversy; I think he was [just] kind of being friendly — and I like that," she said.
On the downside for the Republicans, Bogaard says she'll be voting Democratic in the presidential election, but she does like Kasich — particularly compared to his GOP rivals: "He's the most respectable conservative candidate."
Jews for Cruz: A few hours later, crowds of Orthodox Jews showed up at the Chabad Neshama Center on Ocean Parkway to await Cruz, who stopped by to do some eating of his own — in his case, freshly made matzoh prepared alongside children ahead of Passover.
"It's New York," Cruz shrugged when asked how he's been treated by the local press. He ignored, or didn't hear, a follow-up question about his "New York values" sally.
David Storobin, an attorney and former state senator, said in an interview he thinks Cruz can understand the issues facing young Americans better than his elders in the field.
"Ted Cruz is only 45 years old, and I believe that's a huge advantage for him," Storobin said. "When we talk about the other candidates, who are all 70-plus, they are wonderful people, maybe, but they just don't understand the young people as well."
The warm welcome for Cruz contrasted sharply with his previous experience getting heckled in the Bronx — or being asked to take a hike.
The elephant in the room: The real player in all of this, of course, is Trump, who is a controversial figure even in his native New York but has still racked up big-league support from GOP voters and the county party leaders who play a pivotal role in how the delegate game plays out.
According to the latest RealClearPolitics averages, Trump stands at 53% support in the New York primary, compared to 22% for Kasich and just under 19% for Cruz.
Following his massive rally in Nassau County, Trump has not been on the stump, although his campaign announced an expanded role for adviser Paul Manafort: 
"My campaign continues to receive tremendous support from voters all across the country. We have won far more states, far more delegates, and millions more votes than any other candidate. The nomination process has reached a point that requires someone familiar with the complexities involved in the final stages. I am organizing these responsibilities under someone who has done this job successfully in many campaigns. This will allow the rest of my team to deal with the increasing needs of a national campaign for both the pre-Convention phase and most importantly, the general election. Paul is a well-respected expert in this regard and we are pleased to have him join the efforts to Make America Great Again." 
The announcement amplified chatter about the future of campaign manager Corey Lewandowski, who faces charges of allegedly manhandling conservative commentator Michelle Fields at a campaign event.