Refugees Say They'd Rather Commit Suicide Than Face Deportation Under the EU-Turkey Deal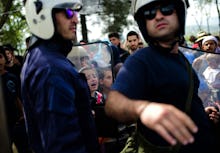 "If they deport us, we will kill ourselves. We will not go back."
This was the promise made by Souaob Nouri, an Afghan refugee in a high-security refugee camp on the Greek isle of Chios, to the Guardian.
Nouri's ultimatum was echoed by another group of detainees on Lesbos, who, in an open letter obtained by the Guardian, declared the following: "We will accept death but not return back. We will all commit suicide if they deport us."
These desperate avowals come in response to the migrant deal signed March 18 between the European Union and Turkey. Under the terms of the agreement, the EU will accept a certain number of Syrian refugees currently residing in Turkey; in exchange, the EU can send new migrant and refugee arrivals to Turkey, rather than offering them asylum. 
Read more: Instead of Banning Syrian Refugees, the Pope Is Washing Their Feet
The EU will also expedite the payment of 3 billion Euro to Turkey, with another 3 billion to follow.
However, groups like Amnesty International and the UN have questioned the deal's legality and said it has potentially devastating consequences. In a damning press release Friday, Amnesty wrote the deal has "fatal flaws" and accused Turkey of violating international law by covertly sending Syrians back to Syria. 
"Far from pressuring Turkey to improve the protection it offers Syrian refugees, the EU is in fact incentivizing the opposite," John Dalhuisen, Amnesty International's Europe and Central Asia director, said in the press release. 
These recent declarations by refugees — of sooner accepting death than being returned — adds yet another layer of scrutiny to a deal much of the world remains highly skeptical over.