Charles Barkley Wants NBA to Move All-Star Weekend Out of Charlotte, North Carolina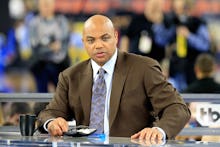 Charles Barkley, the former NBA player who's now a sports commentator, believes the NBA should move the location of the February 2017 All-Star Game from Charlotte, North Carolina, he told CNN. His comments come in the wake of the recent passing of the anti-transgender House Bill 2, also known as the Public Facilities Privacy and Security Act, which requires people to use bathrooms that align with their sex assigned at birth.
"I think the NBA should move the All-Star Game from there next year," he said. "As a black person, I'm against any form of discrimination — against whites, Hispanics, gays, lesbians, however you want to phrase it. It's my job, with the position of power that I'm in and being able to be on television, I'm supposed to stand up for the people who can't stand up for themselves. So I think the NBA should move the All-Star Game from Charlotte. I know Atlanta wants to host it, but they should move it out of Charlotte."
Read more: Powerful Photos Capture the Fight in North Carolina Over the New "Anti-Transgender Bill"
On March 24, the NBA commented on the new legislation by releasing a statement that said while it is "dedicated to creating an inclusive environment for all who attend our games and events," it does "not yet know what impact [the law's passing] will have on our ability to successfully host the 2017 All-Star Game in Charlotte."
As Barkley mentioned, Atlanta's city council has stepped forward asking the NBA to allow the city to host the basketball event, Towleroad reported. Georgia recently vetoed a law similar to the controversial House Bill 2.