2016 Election Poll Results: Here's Where the Candidates Stand Week of April 4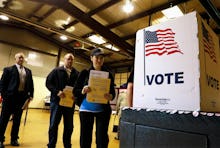 On Tuesday, Republicans and Democrats in Wisconsin cast their votes for the parties' presidential nominees, the Badger State's 2016 presidential primary having proved unusually consequential for a contest that comes so late in the game. The 2016 election process has, so far, been arguably the most contentious in recent memory, tides turning quickly if not always decisively. On Saturday, Wyoming Democrats will head to the polls; after that, it's the valuable New York primary. How are things looking for the candidates this week?
Read more: Republican Lawmaker Gives Away the Real Reason Why States Are Instituting Voter ID Laws
Wisconsin saw upsets for both party frontrunners: Texas Sen. Ted Cruz won 48% of the Republican vote and 36 delegates, while GOP pack leader Donald Trump received 35% of the votes and 6 delegates. Ohio Gov. John Kasich, with 14% support, received no delegates. Vermont Sen. Bernie Sanders bested former Secretary of State Hillary Clinton, with 57% to her 43%. Sanders added 48 delegates to his count, and Clinton, 38.
Where does that leave them nationwide? Trump is still the national favorite, according to the most recent data from Real Clear Politics (RCP). He is up by an average of seven percentage points, with 40% support to Cruz's 33% and Kasich's 21%. Kasich continues to stick around despite a lack of momentum, proving a thorn in both his Republican opponents' sides. 
"Both campaigns have the same goal. We both see there is no path for Kasich to get nominated without massive rules changes," Trump campaign advisor Ed Brookover recently told NPR. "If it means the two campaigns need to work together to see the current rules are enforced, we will in fact work together."
So that's one, and only one, thing upon which Cruz and Trump can agree: Kasich is taking up valuable delegates and he must go. The prospect of nemeses Cruz and Trump teaming up to take out a hit on the Ohio governor is a frightening one on which it's not pleasant to dwell, so let's switch over to the Democrats.
Sanders has enjoyed a string of primary wins, his campaign reenergized despite some recent press fumbles. According to RCP, Clinton is still ahead nationwide, but her lead isn't huge — about six percentage points. Clinton holds an average 50% of Democratic voters' support, versus Sanders' 44%. 
Currently, Clinton has 1,749 of the 2,383 necessary delegates to win the Democratic nomination. Sanders has amassed 1,061 delegates so far. Trump has 743 of the 1,237 delegates he needs to secure the Republican nomination, while Cruz has 517 and Kasich has 143.