J Lo Faces Heat for Dr. Luke-Produced "Ain't Your Mama" After Kesha Rape Case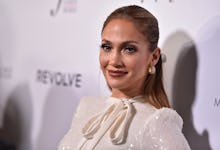 In February, singer-songwriter Kesha's request to end her contract with producer Lukasz "Dr. Luke" Gottwald, the man she accused of sexual and psychological abuse throughout their decade-long relationship as collaborators, was denied.
Dr. Luke denies the allegations, and has not been dropped from Sony Music Entertainment. 
Thousands of supporters started the hashtag #FreeKesha in solidarity with the artist, and pop star Taylor Swift donated $250,000 to the singer to help cover court costs. Jennifer Lopez, however, has come under fire on social media for releasing a new single called "Ain't Your Mama," produced by Dr. Luke, according to TIME. 
Read more: Kesha Claims She Received an Offer Granting Her "Freedom" if She Lied
Twitter users expressed their disappointment with the Grammy-nominated artist Thursday.
The 46-year-old artist is set to perform the "feminist anthem" on American Idol's final episode Thursday night. Lopez told Entertainment Tonight that the song is "very empowering."
"Guys have this tendency, once they love you in the beginning and you're the hottest woman on Earth, and then all of a sudden, it's like, 'Okay ... where's my food?'" Lopez told ET. "It's like, 'What!? Are you kidding me? Take me out! What are you doing right now?'"