Watch an Enormous Hydraulic Press Crush a Hydraulic Press Crushing a Hydraulic Press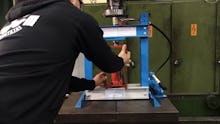 Forge it, clinch it, mold it, crush it. The Hydraulic Press Channel on YouTube has over 400,000 subscribers and 35 million views to date. People love to watch shit get crushed. Coins, phones, LEGOs and fruit salad have all been victimized by the squash master — but we may have just reached the breaking point in the latest video, "Pressception."
In Pressception, the Hydraulic Press Channel stacks a hydraulic press up against a bigger hydraulic press against an even larger hydraulic press — set to the metal guitar licks of Ethan Meixsell's "Thor's Hammer." In a reverse pulverizing nesting doll of sorts, each contraption smaller than the next is crushed. 
Here's the first victim — a tiny plastic press. Bye!
Then the red press gets squished by a large blue press. 
Finally, the large press gets pulverized by a Jupiter-sized megapress.
The video at the time of writing has already raked in more than 1 million views. I cannot stress this enough: People love to watch shit get crushed. If you can't get enough, there's a whole YouTube rabbit hole for you to jump down. Just type "crushing things with press" into the search bar and see for yourselves.