Uber California Lawsuit News: District Attorneys Settle for $25M For Lax Background Checks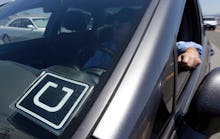 After more than a year in court, ride share app Uber could be dishing out $25 million to California prosecutors for misleading its customers, according to TechCrunch. Uber was sued in a civil case in December 2014 for charging passengers with an airport "toll" and having around 25 drivers with criminal backgrounds despite calling itself the "safest ride on the road."
The first $10 million will be split between the San Francisco and Los Angeles district attorneys. Uber can drop the remaining $15 million if it follows the terms of agreement, which focuses on its marketing statements and which airports it can operate in. 
Being sued for its "false sense of security," some Uber drivers were found to have criminal charges, such as sex offenses, kidnapping and one murder, the San Francisco Chronicle reported. Unlike taxi companies, Uber didn't make its drivers go through fingerprint screening for its background checks.
Uber drivers are now allowed to pick up and drop off from the Bay Area's three major airports and those in Southern California, including the Los Angeles International Airport, according to the Chronicle.
Read more: Uber Drivers in NYC Want You to Know the Truth About Uber's Latest Round of Cuts
"The result we achieved today goes well beyond its impact on Uber," San Francisco District Attorney George Gascon told the Chronicle. "It sends a clear message to all businesses, and to startups in particular, that in the quest to quickly obtain market share, laws designed to protect consumers cannot be ignored. If a business acts like it is above the law, it will pay a heavy price."
In February, Uber had to pay $28.5 million for two class-action lawsuits in which customers claimed Uber wasn't upholding its background checks, according to the Chronicle.