Bernie Sanders Is Going to the Vatican, Home of Fellow "Radical" Pope Francis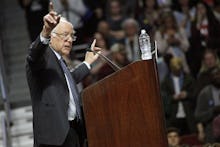 Days before New Yorkers head to the polls, presidential hopeful Bernie Sanders will be visiting the home of a higher authority — and the trip is already stirring up controversy.
The Vermont senator will travel to Vatican City on April 15, just five days before he goes up against frontrunner Hillary Clinton in the Empire State's Democratic primary.
Read more: Pope Francis Calls for Church to Open Up to Divorced and Remarried Catholics
Said Sanders in a campaign statement Friday morning:
"I am delighted to have been invited by the Vatican to a meeting on restoring social justice and environmental sustainability to the world economy. Pope Francis has made clear that we must overcome 'the globalization of indifference' in order to reduce economic inequalities, stop financial corruption and protect the natural environment. That is our challenge in the United States and in the world."
Sanders will attend a conference hosted by the Pontifical Academy of Social Sciences the day after he debates Clinton in Brooklyn.
The gathering will "examine and discuss changes in politics, economics, and culture in the world these last 25 years in the light of Pope Francis' new encyclical Laudato si'," per the Academy.
During a Friday appearance on MSNBC's Morning Joe, Sanders said he was "moved" by the invitation.
"I am a big, big fan of the pope," said the candidate, who often cites the teachings of Francis on the campaign trail.
"Obviously there are areas where we disagree, on women's rights or gay rights, but he has played an unbelievable role — an unbelievable role — of injecting a moral consequence into the economy," said the Vermonter, who if he wins would become the nation's first Jewish president.
"People think Bernie Sanders is radical? Read what the Pope is writing," he quipped.
It was not immediately clear if he would meet privately with Pope Francis while at the Vatican.
Bloomberg News reported Friday that the head of the Academy had taken umbrage at how Sanders had handled the arrangements — and made clear that this should not be seen as a way to make a play for religious voters:
"Sanders made the first move, for the obvious reasons," Margaret Archer, president of the Pontifical Academy of Social Sciences, which is hosting the conference Sanders will attend, said in a telephone interview. "I think in a sense he may be going for the Catholic vote but this is not the Catholic vote and he should remember that and act accordingly -- not that he will."
Francis, who's making a reputation for himself as an exceptionally progressive pontiff, has not endorsed a presidential candidate — but some of his comments, initially perceived by some to have been a slap at GOP frontrunner Donald Trump, have made waves in the race nonetheless.
Sanders trails Clinton, who formerly represented New York in the Senate, by about 11 points in the primary polls, per the latest RealClearPolitics averages.