Paul Walker Death Update: Daughter Meadow Walker Awarded $10M in Porsche Driver Settlement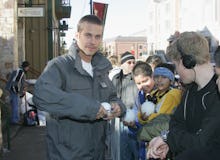 Meadow Walker has been awarded a large settlement deal for the fatal crash involving her father, Paul Walker. Meadow was given a settlement worth $10.1 million from the estate of Roger Rodas, who was the driver of the Porsche that killed both himself and Walker in November 2013.
"The amount paid by the estate of Roger Rodas into a trust for Meadow Walker only covers a fraction of what her father would have earned as an international movie star had his life not tragically been cut short," Meadow's lawyer Jeff Milam said, in a statement provided to People. 
Read more: The Story of How Paul Walker's Legacy Is Being Remembered Will Make You Miss Him Even More
Furthermore, Meadow has continued to pursue a wrongful death suit against Porsche, citing that the car's lack of basic safety features was a factor in her father's death. However, Rodas' widow, Kristine Rodas, had lost a similar suit against Porsche after a court judge had dismissed the car company from the defect claims presented. 
Paul was best known for his continued role in the Fast and Furious franchise. Following his death — which coincided with the filming of Furious 7 — the movie adjusted its initial ending, paying tribute to the actor in an emotional ending scene, coupled with a chart-topping single, "See You Again." 
h/t: TMZ