Damn, Free People, Back at It Again With the Native American-Inspired "Festival" Clothes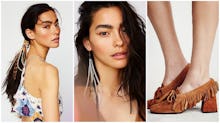 Free People, the rich girl's one-stop shop for anything long, flowy and bohemian, recently released its latest Festival Shop, encouraging girls across America to splurge on a $48 light-up flower crown before dancing the night away in a desert.
But since modern festival wear happens to mean "dress up like a Native American in a school play," there's a bit of a problem. And to see that problem, all we really have to do is show you a few items they've compiled for this collection. 
Here is a $198 ear cuff. 
Here is a $58 painted feather flag. 
Here is a $248 crown. 
Already, people are crying cultural appropriation, saying that the clothes are making Native American culture a mere accessory. For example: Here is a $78 "medicine pouch," and here is a $68 embellished rainstick. 
And it's not just Native American culture that appears here. Thrown into the melange is a Nipomo Blanket, a traditional Mexican item, and a Namaste Henna Kit.
This adds to the plethora of accusations of cultural insensitivity Free People has faced. Just last year, again for its festival collection, the brand was slammed for Native American-inspired accessories and garments. In 2013, the folks at Free People sold tribal-inspired accessories adorned with beading and temporary tattoos of dreamcatchers. 
Even when it's not festival season, Free People often toes the line between appropriation and appreciation. In 2012, the Navajo Nation called out the company for selling underwear, among other things, with a Navajo-inspired print. In 2014, something they called a $68 "cosmic stick" also earned plenty of criticism. 
Search for the word "tribal" on the site right now and you'll see 70 items, including ear cuffs, beaded jewelry and handbags. And it's not clear that the items have been made in conjunction or consultation with actual Native American artisans, even though many Native American models and designers say they prefer to be a part of the design process.
But what might be most concerning is not that Free People is selling these items, but that they're exactly what so many people wear to music festivals. Fashion-filled concerts like Coachella are now expected sites of uncomfortable cultural-appropriation moments, from the overt (girls at Coachella flocking to fur and feather headdresses) to the borderline (Kendall Jenner slipping into a costume-like leather vest and silver necklace at Coachella 2015). 
For Free People, sure, things like feather earrings or moccasin heels may part of the brand's aesthetic. But with celebrities like Jennifer Lopez and Karlie Kloss getting heat for just one outfit, you'd think that a brand that's been slammed so many times before would think twice about launching an entire section of "tribal-inspired" clothes and accessories.
Mic has reached out to Free People for comment. 
h/t HelloGiggles