SCHAFT Bipedal Robot Can Walk Up Your Stairs and Take You on a Romantic Beach Stroll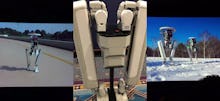 Is there a load you have to bear that you can't carry? This robot is right up the road. It'll share your load. (It'll also take you on a nice date.)
Google-owned robot company SCHAFT had its new bipedal robot strut across the stage at the New Economic Summit 2016 Conference in Tokyo.
The Japanese robotics team has remained quiet on the public front since it was pulled out of DARPA's Robotics Challenge in June 2014. The company left the competition with the intent of building a commercial product instead, Engadget reported. 
Nearly two years later, the fruit of SCHAFT's labor is walking itself on stage in all of its bipedal glory — its two-legged swagger reminiscent of Interstellar's TARS. 
The SCHAFT robot can allegedly tackle uneven terrain and stairs, as well as carry up to 60 kilograms. It "is designed to be a low-cost, low-power, compact device to 'help society,'" according to journalist Tim Hornyak, IEEE reported. 
The two-legged prototype lacks the emotional design you might see in a Pepper or a Jibo — it's likely not designed for human companionship, but rather to help carry heavy stuff. Its ability to lift weights and traverse rough ground opens up plenty of possibilities for where these robots can go. 
Then again, you can always use it as a companion on a late-night walk on the beach if you don't mind the sound of screeching metal over the ocean waves. Though you won't be able to hold its hand — it doesn't have any.