Avocado Lovers Just Got the Greatest Gift — This All-Avocado Eatery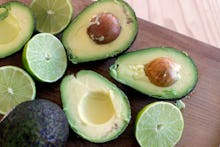 People feel strongly about avocados — no, like, really strongly. When, in 2014, Chipotle suggested the franchise may have to "temporarily suspend" its guacamole due to cost increases, it sent fans of the fruit into a tizzy. Reports of an apocalyptic avocado shortage circulates on the regular.
But at the Avocado Brunch Club, a new pop-up restaurant in London's Printworks Kitchen, avocados are always on the menu. Run by the "concept specialists" of creative branding startup Meredith Collective, the restaurant offers a five-course brunch that includes an avocado gazpacho with watermelon and basil oil, avocado crab with coconut pearl barley risotto and, for dessert, avocado ice cream.
Read more: There's Good News for People Who Love Avocados
The pop-up will only be open on six dates from April 10 to June 12, and a ticket will set you back 55 British pounds, or about $78, but for true avocado lovers it could be well worth it: Attendees will be welcomed at the door with avocado margaritas and can take home a grow-your-own avocado kit.
Before you go rogue with your avocado supply, though, make sure you can spare the resources: Avocados are a thirsty food that require a staggering 74.1 gallons of water to produce just a pound of Instagram's most photogenic fruit. With California in the midst of a crippling three-year-long drought, the fact that the Golden State supplies 95% of the country's avocados is troubling.
So enjoy them while you can. And how you can — we're thinking "deep fried in crisp quinoa."
h/t Marie Claire