What Channel Is the 2016 MTV Movie Awards On? Viewing Info and How to Watch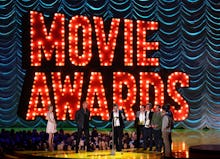 The 2016 MTV Movie Awards, hosted this year by comedian Kevin Hart and actor Dwayne 'The Rock' Johnson, will air on MTV on Sunday, April 10 at 8 p.m. Eastern. The show will honor some of the year's biggest blockbusters (which don't usually get acknowledged at prestige awards shows like the Oscars and the Golden Globes). If you don't have cable but still want to watch, you may be out of luck, but there will probably be plenty of action on MTV's official Twitter and Instagram.
This year's MTV Movie Awards nominees include action films like Avengers: Age of Ultron, Jurassic World and Star Wars: The Force Awakens as well as dramas like Concussion, The Big Short and The Revenant.
Special honorees will include Will Smith, who will receive the Generation Award, and Melissa McCarthy, who will receive the Comedic Genius Award. Presenters at the awards show will include Olivia Munn, Charlize Theron, Jessica Chastain, Seth Rogen, Chris Hemsworth and Zac Efron.
Read: The People's Choice and MTV Movie Awards Are Just as White as the Oscars