Supporting Donald Trump Might Land This New Jersey Man in Jail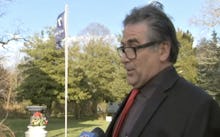 Joe Hornick really wants to Make America Great Again.
The former New Jersey firefighter flies two of his own Donald Trump flags outside his home in West Long Branch, New Jersey.
Read more: Donald Trump Finally Explains How He'd Make Mexico Pay for His Border Wall
Recently, however, local police informed him that the flags violated a local ordinance against public political signage more than 30 days before an election. The cops told Hornick that the flags had to go, or he could face up to 90 days in jail.
"I'm not a football fan. I'm not a sports fan. One thing I have become is a Donald Trump fan," he told NJ.com. "I feel my constitutional right has been violated. I have the right to express myself."
Hornick has promised to fight, saying the ordinance only covers lawn signs, a designation he says does not apply for his flag. "This is not a sign!" he insisted to NBC.
Even if the courts rule in his favor, it still won't be easy for Hornick to keep the flags flying. Up day and night, they have already been torn down five times. Speaking to local media, Hornick mocked the vandals, saying he had a warehouse on-call, full of replacements, one of which he even had on hand to show an NBC camera crew.
Hornick says he'll go to jail if he has to and should Trump lose, will never vote again. Until that happens, though, the flags will fly.