Virginia Rep. Don Beyer Had Dinner With Undocumented Immigrants and Here's What Happened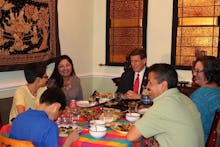 It's usually not polite to talk about politics at the dinner table, but there are exceptions. 
Take the dinner shared between Virginia Rep. Don Beyer and the Pintos, a Latino family of five who live in Virginia. The Pintos were very clear in their message to Beyer: If immigration authorities were to deport undocumented members of their family, the only family member left in America would be 8-year-old Christian, who was born in Arlington. 
The Virginia Coalition for Immigrant Rights sponsored the dinner, which consisted of the Pintos entire family: father and construction worker, Jerry Pinto Sr.; mother Elvira Pinto, who hopes to be a flight attendant; daughter Ambar Pinto, a college student and aspiring immigration lawyer; and sons Christian and Jerry. The family moved to Fairfax after their Arlington house burned down in a fire. 
According to ThinkProgress, who attended the dinner, while there was a lot of light conversation — youngest Christian spoke about hoverboards and video games — Pinto Sr. eventually brought up how he lives in fear of being reported to immigration officials. 
"It's gotta be hard for you because you're hiding all the time," Beyer said to Jerry, ThinkProgress reported. "That's a long time for you to be in legal limbo."
The legal limbo Beyer referenced is the current challenge to Obama's executive actions on immigration. If the U.S. implemented Obama's executive actions, immigrants in America would be eligible for deportation deferral, work permits and state driver's licenses. But right now, the action is held up in the case United States v. Texas, which the Supreme Court will begin to hear oral arguments for on April 18. 
"If my parents were in deportation proceedings, my family would completely break apart," a teary-eyed Ambar Pinto told ThinkProgress. "If it was my dad, I would be the one responsible to sustain my family because my mom doesn't have access to a driver's license and she works from time to time. I don't know what would happen to my brothers. It's important that we have DAPA so that my parents won't be deported for at least two years."
Perhaps the saddest moment in the dinner came when youngest son Christian commented on what would happen if Donald Trump were to be elected president. 
"If Donald Trump wins, I'm glad I have a passport," Christian said, referencing the trips he'd have to make to visit his family. Around 5.3 million children in the U.S. have a parent who is an undocumented immigrant. 
According to Beyer, Christian and other children of undocumented immigrants are "indistinguishable from my children, my nieces and nephews who were born in this country."
For Beyer, the dinner was less a persuasive tool (the Congressman already supports immigration reform) but a model for many of his anti-immigrant colleagues to use as a way to interact with immigrant families. 
"I would say that they just don't understand the problem," Beyer said to ThinkProgress. "It shows no compassion at all. As with this family, the youngest is a U.S. citizen born here. Another one has deferred action status. The parents have no papers. And yet we don't want to break them into three or four different pieces, or even two pieces."