New Jersey High Schoolers Post Nazis Vs. Jews Beer Pong — "Alcoholocaust" — To Snapchat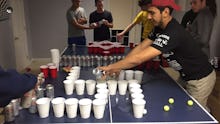 A group of New Jersey high schoolers decided to take it 50 steps too far when they turned their game of beer pong into a new game called "Holocaust pong" or "alcoholocaust." 
Their classmate Jamaica Ponder posted a photo on her blog of the Princeton High School students arranging the red cups into the Star of David for the Jewish team and a swastika for the Nazi team. 
According to NJ.com, the game included the option for the Jewish team to "Anne Frank,'' or hide, a cup, while the "Nazis" could "Auschwitz" one of the Jewish players and make them sit out a round.
Read more: Fairfield University Threw a "Ghetto-Themed" Party, And It Was as Bad as It Sounds
"Yes, that's a swastika," she wrote. "Double yes — they're playing Jews vs. Nazis beer pong. No again, this isn't a joke." 
Ponder wouldn't name her classmates who appear in the photo, some of whom she said are Jewish — though she made a point of adding that the Jewish kids helped set up but didn't play.
"They are athletes and student leaders," Ponder told NJ.com. "They're prominent individuals that everybody knows, captains of sports teams."
Though Ponder didn't bring the matter to her school's administration before writing the blog post, the district's superintendent Steve Cochrane said administrators have spoken with students and their families about the photo.
"I am deeply upset that some of our students chose to engage in a drinking game with clearly anti-Semitic overtones and to broadcast their behavior over social media," Cochrane told NJ.com. 
Ponder preempted the internet backlash that often comes with whistleblowing on socially-sensitive issues in her blog post.
"Maybe you think I'm overreacting, or that I don't know how to take a joke," she wrote. "If this is the joke, if this is supposed to be funny — well then you'll have to excuse me because I simply cannot drink to that."