'The O'Reilly Factor' Tackles Why College Students Are Such "Sensitive Individuals"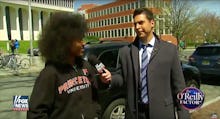 Trolling can take many forms, and on a recent airing of Fox News' The O'Reilly Factor, host Bill O'Reilly opted for the direct approach.
On a mission to ostensibly figure out why, in his words, "college students these days are very sensitive individuals," O'Reilly sent correspondent Jesse Watters to Princeton University to ask students if they were offended by the word "ghetto."
Read more: Even Bill O'Reilly Is Calling Out Donald Trump on His "Totally Wrong" Racist Tweet
"When someone says 'ghetto' how do you feel about that?" Watters asked a black student in the segment's opening dialogue. 
"I feel like they should be more careful in their choice of words," the student responded. 
Things went on from there.
Watters ended the segment on a light note with O'Reilly laughing about the experience. "They didn't seem as crazy as some of these other college kids who start to cry when they see Donald Trump's name chalked on a wall or something," said O'Reilly. "They actually took you seriously."
"That's the biggest mistake they made," Watters replied. 
Lately, race has been an especially heated topic on the Ivy League campus after a special committee decided to keep former U.S. — and former Princeton University — President Woodrow Wilson's name on the School of Public and International Affairs, saying in a statement that they would work to "create a more multifaceted understanding and representation of Wilson on campus."
Princeton's Black Justice League led the charge to remove Wilson's name since September, citing Wilson's historically racist, and particularly his pro-segregation, stances. (Read the League's response to the decision here.)
Watch the whole segment here: