John Legend Performed Inside a Women's Prison to Continue His Campaign for Prison Reform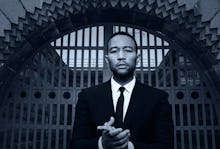 John Legend needs us to talk about criminal justice reform.
Thursday, the R&B icon performed inside Washington Corrections Center for Women as a part of his #FreeAmerica campaign, aiming "to change the national conversation about our country's misguided policies," as the site's website reads.
Read more: One Quote Sums Up Why John Legend Is the Voice for Justice Music Desperately Needs
"The overarching story is this system is not healthy right now," Legend said, addressing his small audience at the prison and the much bigger audience listening in on Facebook live. 
"We've gone too far on the punishment side," he said. "We need to focus more on fairness, compassion, mercy and restoring people so they can be whole and go back into the community and live productive, compassionate, healthy lives."
He ran through songs aimed at capturing this spirit of liberation, including Bob Marley's "Redemption Song" and Marvin Gaye's "What's Going On." Legend's venue choice and pained crooning only played up those songs' gravity and urgency. Watch the full performance below and read up on Legend's campaign here.