Mexican Police Officers Are Giving Female Colleagues "Attractiveness" Inspections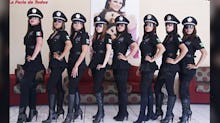 Male police officers in Querétaro, Mexico, are playing "hot or not" with their female colleagues, and it's basically in their job description. The male superiors on the force are using "attractiveness" inspections, evaluating each woman's appearance and weight, to determine which of them will be assigned to the all-female squad that patrols the city's tourist center. 
According to the Guardian, a number of the women have filed complaints with the state's human rights commission and have gained the support of women's rights organization Coincidir Mujeres. One member, Maricruz Ocampo, recounted the story of a female officer whose colleague told her she looked "paunchy" after her miscarriage.
Read more: Workplace Sexism Is Still Very Much a Thing, Says Depressing New Survey 
These allegations are part of a recent trend plaguing Mexican law enforcement. In March a similar issue at the Aguascalientes police department came to light when a special force of attractive female officers was disbanded.
The man behind the special Aguascalientes force, Former army Gen. Rolando Eugenio Hidalgo, had mandated the women wear form-fitting tops, tight pants and high-heeled boots on the job.
Eddy's successor put an end to the practice, determining that the 4.7-inch-heel-clad women were "a distraction," according to the New York Post (which, in its headline, lamented that the new head of security had "ruined the world's sexiest police squad").
The most recent pushback against the force's sexist internal practices comes with a renewed call for Eddy's resignation, along with an onslaught of other sexual harassment accusations, the Guardian reported.
According to Ocampo, the women told her, "I trained to be a police officer, not a showgirl."