If the Food Pyramid Had Been Covered in Sriracha, Maybe It Wouldn't Have Been Destroyed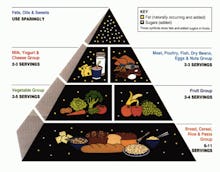 Center for Nutrition Policy and Promotion/USDA
Let's face it: The food pyramid was an absolute mountain of garbage.
This is what the fat cats at the USDA wanted us to eat — every. single. day.
I don't know about you, but nothing gets my mouth watering like knowing I have to eat three servings of "dry beans."
Dry.
Beans.
Yum. Oh wait, not yum — catastrophe.
There has to be a better way. And fortunately — there is, with the help of a not-so-secret ingredient: Sriracha.
Doesn't that look so much better?
Doesn't this *almost* make you want to eat a vegetable?
Isn't this just the most satisfying thing you've ever seen?
Doesn't this video of Sriracha being made make you want to burn a hole straight through your tongue at lunch today?
Sriracha — the simple, spicy secret to making even the healthiest, blandest food in your pantry a joy to eat.